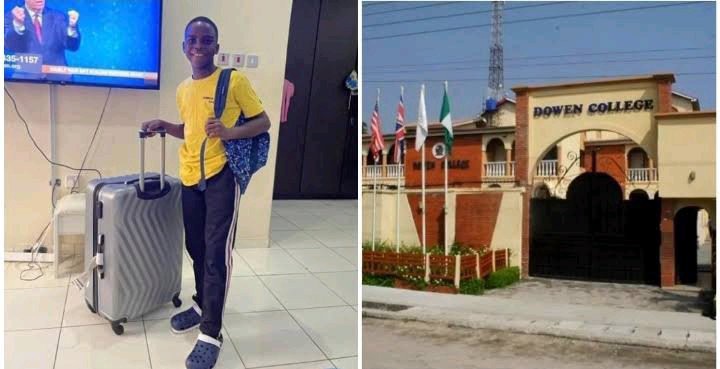 Photo Credit: The Guardian
The news of the death of a 12-year-old Oromoni Sylvester, a junior student of Dowen college, Lagos, who was said to have been a victim of constant bullying by some senior students of the school is a very saddening one.
However, looking at the event before his last departure to the boarding school, it was revealed by his mother that he doesn't want to go back to the school this term. This means that things were not right and ought to be investigated.
The parent on the other hand were not aware, because if they did, the bullying would have been prevented.
It is however sad that this young boy's death will serve as a lesson to parents and guardians, to take every word their child says serious.
There are certain signs that can be seen in a child that is being bullied either by classmates, senior students or even teachers.
As parents / guardians, we are to ensure that we monitor our children / wards, so that we can know whenever there is an unusual or strange attitude displayed by them, at certain times.
Today, I'll be talking about some of these signs so that parents can look out for it.
Firstly, a child who is being bullied will develop fear or phobia.
There is constant fear in the heart of the child because, he feels that he can be hurt at any time.
Secondly, a child who is being bullied will begin to stay isolated.
Whenever you notice that your child no longer relate with others, he /she now stays alone, no friends or gist partner, contrary to what the child used to be, the situation should be looked into.
Such a child might be undergoing depression from bullying and doesn't know how to share it with you, probably because he has been threatened not to talk.
Thirdly, a child who is being bullied might no longer perform excellently in academic activities.
Parents are to constantly check on the academic performance of their child. If such a child has ceased to perform up to expectation, it should be a thing of concern and should be looked into.
Fourthly, sudden lack of interest in school.
Whenever a child who used to be excited to attend school has suddenly changed and no longer wants to go to school, his reasons should be closely and carefully looked into.
These few signs highlighted above, can help save our children / wards from the negative effect of bullying.
Kindly share your opinion in the comment section below